Supporting polish economy


Ethics in Allegro Caring about the environment
We are aware that the global climate crisis is one of the greatest challenges that we are currently facing also in Poland. The decisions we make today will have a huge impact on our future and the future of the next generations of Poles. As a market leader, we feel responsible for managing and scaling our social and environmental impact. Continuing our efforts for an increasingly responsible and sustainable development, and planning to prepare for the upcoming regulatory changes, we have created a new strategy for 2020–2023. In our refreshed approach, we focus on making our business greener, while constantly increasing our ambitions and improving our performance in other areas that are important to our employees, our investors and other stakeholders.

At Allegro, we have ambitious business goals ahead. As a technology and e-commerce leader in Poland, we carefully track the value we create for the society, economy, climate and the environment. This is an important part of our DNA, which we take into account in strategic processes and management decisions.
We reduce our emissions
Our ambition is to reduce our negative impact on the environment, primarily by reducing emissions. We want it to be lower and lower each year.
Our carbon footprint decreased in 2019
In 2019, we released a total of around 6,247 tonnes of CO2, down by 5% compared to total emissions in 2018 (6,556 tonnes of CO2).
About 90.2% of our carbon footprint in 2019 were indirect emissions resulting from the consumption of purchased electricity and heat, 6.4% were other indirect emissions related to the use of public means of transport and private vehicles owned by the employees, and approx. 3.4% were direct emissions from gas used for heating our buildings.
Legend:
Indirect emission: results from the consumption of purchased electricity and heat
Other indirect emission: related to the use of public means of transport and private means of transport owned by employees
Direct emission: caused by the consumption of gas for heating buildings
We are introducing green innovations
At Allegro, we offer our customers many delivery methods that have different carbon footprints. Currently, the 'greenest' delivery methods are: parcel lockers and pick-up points. Delivery of several dozen parcels to a single location in single shipment helps reduce exhaust emissions, reduces traffic jams and noise. Our customers can select from over 25,000 parcel lockers and collection points throughout Poland, to pick up their parcels on the way from work or store, reducing unnecessary trips by car. With Allegro Smart! you are offered free and eco-friendly delivery in transactions of PLN 40.00 or above.

In the fight for clean air
One of the main environmental issues in Poland is the quality of the air we breathe. For years, Polish cities have been infamously occupying the leading positions in the rankings of the most polluted cities in the world. As Allegro, we have joined the fight against the sale of illegal boilers, the so-called fumers, which are the main source of the so-called low-height emissions, i.e. air pollution from single-family and terraced houses. According to the data of the Ministry of Development, over 200,000 such boilers are released onto the Polish market each year. As part of the cooperation agreements signed by us with the Ministry of Development and the Polish Smog Alert, and with the President of the Office of Competition and Consumer Protection, we support the elimination of products that do not meet the parameters required by law.

All For Planet Foundation

Through the activity of Allegro All For Planet, our foundation, since 2008 we have been trying to increase the ecological awareness of Poles and promote environmentally friendly behaviour. We combine ecology and sustainable transport with technology. We promote bicycles as the most eco-friendly means of transport, develop bicycle infrastructure, promote a healthy lifestyle, and spark discussions on these topics. We engage our engineers, bicycle activists and local governments in the foundation's activities.
Ride Kilometres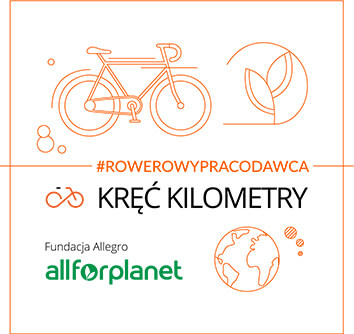 The Ride Kilometres campaign is the flagship project of our foundation and at the same time the largest social campaign encouraging Poles to ride bicycles. We have launched it in 2012 and throughout this period we have invited representatives of local communities from all cities in Poland, individual enthusiasts of cycling, and other companies that wanted to promote cycling among their employees.
The main goal of the initiative is to "cycle" as many kilometres as possible in a selected category (as an individual or a group). The cycling competition begins each year in early May and continues until the end of September. We present prizes for top achievements. So far we have financed, among all, almost 3,000 parking spaces for bicycles throughout the country.

Summary of the campaign since 2012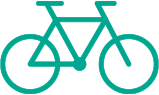 190 687 167 km
Przez 8 lat
Tyle kilometrów przejechali uczestnicy kampanii od 2012 roku

49 611 ton
CO2 mniej
O tyle zredukowali ślad węglowy, czyli ilość emitowanego do atmosfery dwutlenku węgla

158 mln zł
Oszczędności
To pieniądze zaoszczędzone dotąd przez uczestników przy zmianie czterech kółek na dwa

5,4 mln drzew
Tyle drzew trzeba by posadzić, żeby zredukować ślad węglowy, gdyby uczestnicy kampani nie jeździli na rowerach