Ethics in Allegro


For employees From the beginning of our activity, we have been engaging in campaigns aimed at developing digital competences and using modern technologies to solve social problems. We actively share knowledge, support education in technology, and help those in need thanks to our charity fundraising platform. Our social impact has been really broad, which we are very proud of.
Allegro tech – education in technology
We believe that exchanging experiences is a driver for further development. That is why we are keen to share our technological knowledge with communities of IT engineers in Poland and around the world. Allegro Tech is an initiative promoting and sharing knowledge in the field of technology for years through conferences, meetups and the allegro.tech blog. This way, we want to show what is going on at Allegro on the technological backstage, and integrate the IT world.



Allegro Tech is a community of over 1,000 technology experts who share their knowledge and experience with others.
Allegro Tech Talks
Allegro Tech Talks is one of the main initiatives of Allegro Tech, now a permanent event in the IT industry calendar. It is a series of meetings during which Allegro experts talk about projects implemented in our organisation, problems that we sometimes face and original solutions that we implement. We want to encourage discussion, which is why we invite many guests from outside our organisation and foreign speakers to the meetings.
Allegro Tech in numbers 2019
175 speakers and lecturers represented Allegro at 92 conferences in Poland and around the world, and at 60 meetups;
33 own meetups under the Allegro Tech brand, organised in our offices;
30 hours of meeting recordings filled with knowledge and inspiration, viewed by about 100,000 users on our Facebook page;
261,798 views of our blog and 152,770 users;
74 Open Source projects have earned 9,796 stars and have had 381 contributors.
Allegro Tech in numbers 2018
174 speakers at 70 meetups and 82 conferences in Poland and around the world;
500 hours of presentations delivered during 337 sessions in 42 cities, with a total audience of approximately 44,000;
62 Open Source projects have earned 7,249 stars and have had 340 contributors..
We support women's careers in technology
Diversity in teams and organisations is very important to us. That is why, for the past 2 years we have supported the Women in Tech Summit initiative promoting women in the IT industry. As part of the cooperation, female tech experts from Allegro shared their knowledge during lectures and encouraged other women to enter the world of technology.
In 2018, to inspire women to switch industries and to showcase the opportunities it offers, we organised our own Meetup at our Pixel office in Poznań. During the meeting, the speakers talked about their experiences, inspirations and career paths in technology.

Allegro is a partner of Szkoła Pionierów PFR
Since 2018, we have been a strategic partner of Szkoła Pionierów PFR, an educational and mentoring program organised by the Polish Development Fund. The aim of the program is to support people who are starting their careers in creating innovative projects that may be commercialised in the long term and launched on the Polish market, and then globally.
Allegro is a partner of Centralny Dom Technologii
Every year, a group of 50 students interested in new technologies attends classes at Szkoła Pionierów. During the three weeks of intensive workshops in Warsaw and one week of training abroad, participants develop theoretical and practical business skills.

Damian Zapłata podczas uroczystości inauguracji Szkoły Pionierów PFR
Since 2018, 100 Pioneers have completed the educational program.
Allegro is a partner of Centralny Dom Technologii
Since August 2019 we are a partner of CDT, which educates the youth and shares practical knowledge. They use the STEAM approach to education (Science, Technology, Engineering, the Arts, Mathematics). Allegro is the partner of the "Technology" educational path, and our experts are happy to share their knowledge at meetings and workshops for the youth.
Allegro Charytatywni

Allegro Charytatywni is a virtual space where any public benefit organisation can raise funds for social goals that are important to it. There are no fees or commissions. We provide the necessary technological solutions and get involved in selected initiatives as a partner. During the 6 years of the platform's activity, Allegro has managed to raise over PLN 66,000,000 for charity!
Allegro customers who want to support a person or initiative can auction their own items for a fundraising goal of their choice, and buy unique items at charity auctions. During selected charity events, customers can also make a direct donation, usually into a Virtual Collection Box or in the form of a PayU fast transfer.
Charytatywni Allegro in numbers
The Charity Platform was was created in 2014
So far we have collected over PLN 66 million
455 We have helped this many charity organizations
2,130
collections
We have supported this many charitable goals
More than 4.5 million offers for charity were listed
Allegro and WOŚP

Allegro has been supporting WOŚP from the very beginning. 20 years of auctioning for the Great Orchestra of Christmas Charity have been two truly exhilarating decades. The first finales and the first records instilled in us a passion for helping, which continues to this day. We are constantly improving auctions to scale up aid even more. During the years of our cooperation, we have raised almost PLN 79 million to support WOŚP.

We help the Great Orchestra of Christmas Charity in several ways:
Through auctions on the Charytatywni Allegro aukcje.wosp.org.pl platform
On the Rzeczyodserca.pl site and by donations into the Virtual Collection Box in the Allegro mobile app.
Allegro and WOŚP in numbers
PLN 79 million raised for the Great Orchestra of Christmas Charity
PLN 9.1
million raised in 2018
PLN 12
million raised in 2019
PLN 14.8
million million raised in 2020
A new auction on Allegro was posted every 5 seconds during the last Finale.
Podaruj misia

We have been supporting the Podaruj Misia campaign organised by the Nie Jesteś Sam TVN Foundation since its launch, i.e. for 14 years. In the pre-Christmas period, Allegro starts selling teddy bears designed each year by TVN celebrities. All proceeds from the campaign are donated to treat and rehabilitate the children the Foundation helps. Importantly, those who decide to buy the toy do not need to bear any additional costs, including shipping, which is covered by Allegro.
Dream Dinner

We are the technological partner of the Dream Dinner initiative, launched by Mam Marzenie Foundation. What is it about? At www.kolacjamarzen.pl well-known and popular people from the show business world post charity auctions, offering to have dinner with the winner. Fans have an opportunity to meet their idols, talk to them about their passions or interesting facts from their life, while helping those in need at the same time. The proceeds from the auctions are used to make the dreams of sick children come true. We have been running the campaign together for 6 years. So far, we have managed to raise PLN 400,000 for the dreams of the children helped by the Foundation.
Allegro LESS WASTE at Pol'and'Rock 2019
We have been accompanying the Most Beautiful Festival in the World festival goers for 10 years. Every year, the Allegro zone draws attention not only with the interesting attractions, but also its inspiring message. Each time we try to inspire people visiting our zone to take specific actions, and encourage them to reflect.



In 2019, the slogan of our zone was "#Be Smart #Less Waste: festival-style environmental education". We wanted to encourage festival audience to adopt a less-waste lifestyle. In our Allegro Zone we organised ECO workshops, during which everyone had the opportunity to make eco-friendly cosmetics, cleaning products, recycled shopping bags, and to craft jewellery from clothes and waxed fabric. Fans of games and puzzles could also enter the ECOlabirynth with many original art installations, as well as important information about the condition of our environment.
We also made reusable water bottles and water dispensers available to everyone in our zone. In total, we distributed about 10,000 portions of water, significantly reducing plastic waste at the festival site.
Gazeta Wyborcza Foundation
In 2019, the Gazeta Wyborcza Foundation together with Allegro organised auctions of, among all, the first cover of the daily signed by Adam Michnik, a tour of the Warsaw editorial office and a walk in the Białowieża Forest with Adam Wajrak. Thanks to the readers' support, PLN 32,700 was raised for the foundation to support its mission, which is to defend the independence of the media as the foundation of democracy.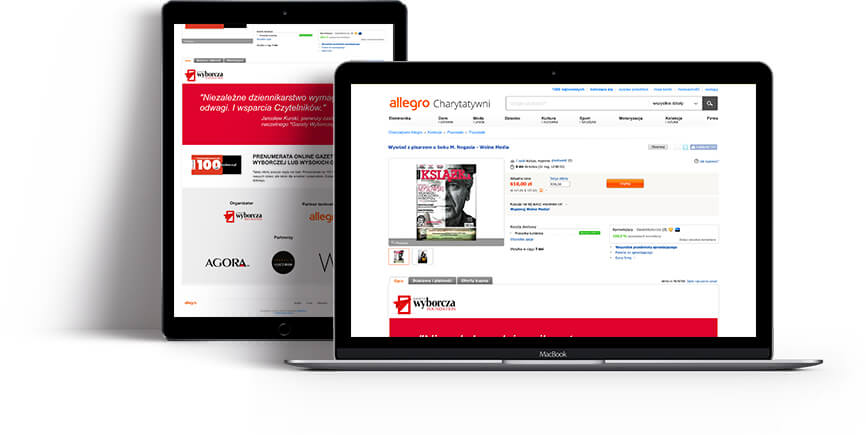 A Good Auction, or even two!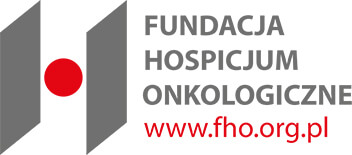 Good Auction is another unique charity project where famous people as well as every customer could put an item up for auction to support the Oncological Hospice Foundation. In 2018, the main theme was football, and music in 2019. Auctioned were, for example, unique items from the world of sport, such as an extraordinary football signed by the Polish national team from the 1970s, or Lenny Kravitz's guitar. During two editions, we raised over PLN 318,000 together with the Oncological Hospice Foundation!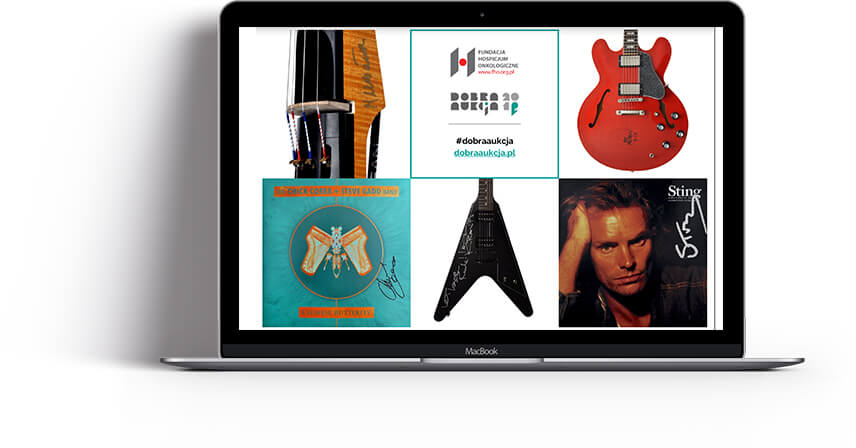 Awards and distinctions
We are glad that our activity and commitment help many people in need. We are also proud that our efforts are highly valued by experts, which numerous awards and distinctions are testament to.
The most important awards and distinctions in 2018 and 2019
In 2018, we won two Silver Paperclips for the PR campaign supporting the launch of Allegro Smart! in the categories: "Product, service or company launch" and "Media relations", and two Bronze Paperclips in "Business-to-Business PR" and "Technology, IT, telecommunications".
In 2018 and 2019 we received the Service Quality Star award in the E-commerce platforms category.
In 2018 we won the main prize in the Polish National Sales Awards competition. Our Backoffice and Social Care departments were also recognised.
Allegro became the 2018 Top Brand in the e-commerce category
We ranked 5th in the TOP 100 brands ranking included in the "[Digital] customer is our master" KPMG report, concerning customer experience trends among Polish companies.
Caring for vendors
For Allegro to operate efficiently and keep developing, in 2018 and 2019 we contracted the services of over 3,914 proven product and service providers. To guarantee top quality, all our vendors undergo a multi-stage verification process:
Allegro vendor verification process
Step 1 - Analysis of vendors and solutions
Step 2 - Assessment of the vendor's credibility and potential
Step 3 - Verification of at least three commercial offers
Step 4 - Negotiating the terms of cooperation
Step 5 - Acceptance of the terms and signing the cooperation agreement
In addition, since 2017 vendors whose contracts exceed PLN 100,000 are asked to sign the Code of Conduct for Vendors and Business Partners and the New Vendor Questionnaire. Selecting our vendors, we also pay attention to their sensitivity to social and environmental issues, and we try to ensure all of them submit a written statement of compliance with the principles of the United Nations Global Compact initiative. There were 116 of them in 2018 and 2019.

Responsibilities of vendors and business partners
Responsibilities of vendors and business partners based on ten United Nations Global Compact principles:
Compliance
Respecting human rights
Ensuring the highest standards and work conditions for employees
Protecting the natural environment