Letter from the CEO


Allegro's scale of operations Allegro strategy and our business model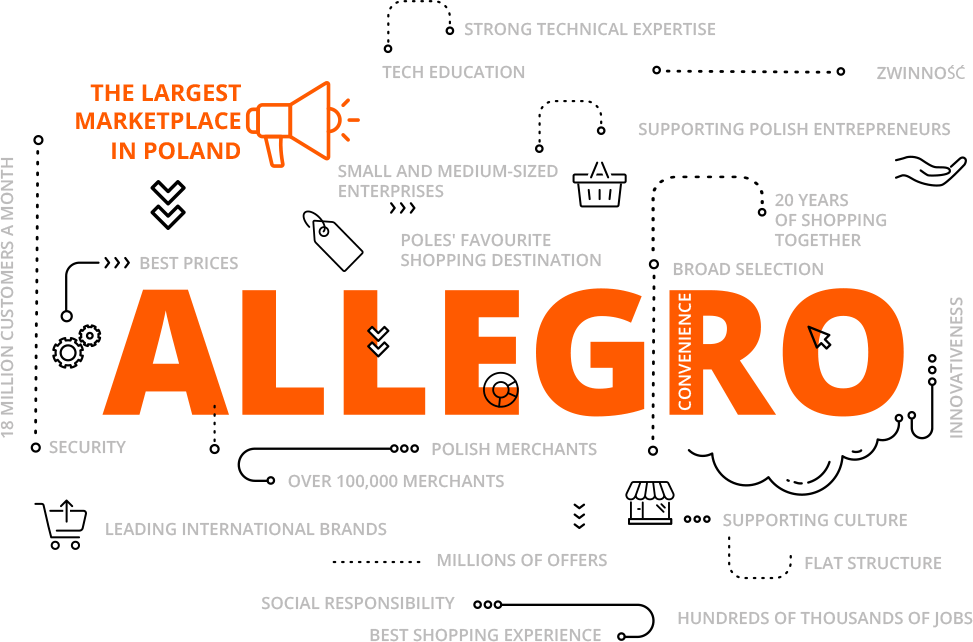 Poles' favourite shopping destination
Allegro has been Poles' favourite shopping destination for over 20 years. Our platform is home to both small and medium-sized Polish businesses as well as the most popular international brands, with a total of 117,000 merchants. Every month Allegro is visited by 20 million customers from all over Poland who value the platform for convenience and security of shopping, attractive prices and a large selection of products.
Allegro is owned by Allegro.pl spółka z ograniczoną odpowiedzialnością. Our head office is located in Poznań, at ul. Grunwaldzka 182. Allegro also has offices in Toruń, Kraków, Warsaw, Błonie and Wrocław. We currently operate only in Poland.

Best shopping experience
Our mission is to offer the best shopping experience to customers and great business opportunities to merchants. We focus on their needs, which inspire us to create innovative solutions in which business and technology come together. They make the entire shopping process fast, easy and secure.
What we offer to customers
Full transaction safety
Free delivery with Allegro Smart!
Allegro on your smartphone for maximum convenience
Allegro Bargain Zone
Promotions and shopping festivals, including Black Week and Smart! Week
Intuitive search system
Recommendations
Buyer Protection Programme
Allegro installments
Allegro Pay Later
Allegro Finance – various payment methods
Coins Programme
Insurance for selected products
Official Allegro Store
What we offer to merchants
Full safety
Convenient listing creation system
Sales and quality management system
Access to 18 million customers each month
Cyclic promotional campaigns that boost sales
Allegro Smart!
Allegro Coins
Financial products: 0% installments, loans for merchants
Super Seller programme
Intuitive Allegro Ads promotion tool
Free training and educational materials in Allegro Academy, classroom training, e-commerce webinars
Packages for new merchants
Business model
Our business model is fully transparent and is centred on connecting merchants offering products with customers looking for the best deals. We are constantly developing the platform to keep improving customer experience, and enable merchants to grow their businesses more easily and dynamically. We generate profit on the transaction fees we charge from sellers when they make a sale. Our other sources of income include advertising space, promotional tools, subscriptions and access to reports. The fee for listing the product regardless of whether it has been sold is charged by us only in a few categories, namely Services and Antiques and Art. No barriers to entry, no fees for listing items in almost all categories and constant development of technology – this is how we build a fair and easily accessible ecosystem for merchants, where doing business pays off. We take on a large part of the sales risk and merchants that start doing business on the platform do not need to bear costs upfront.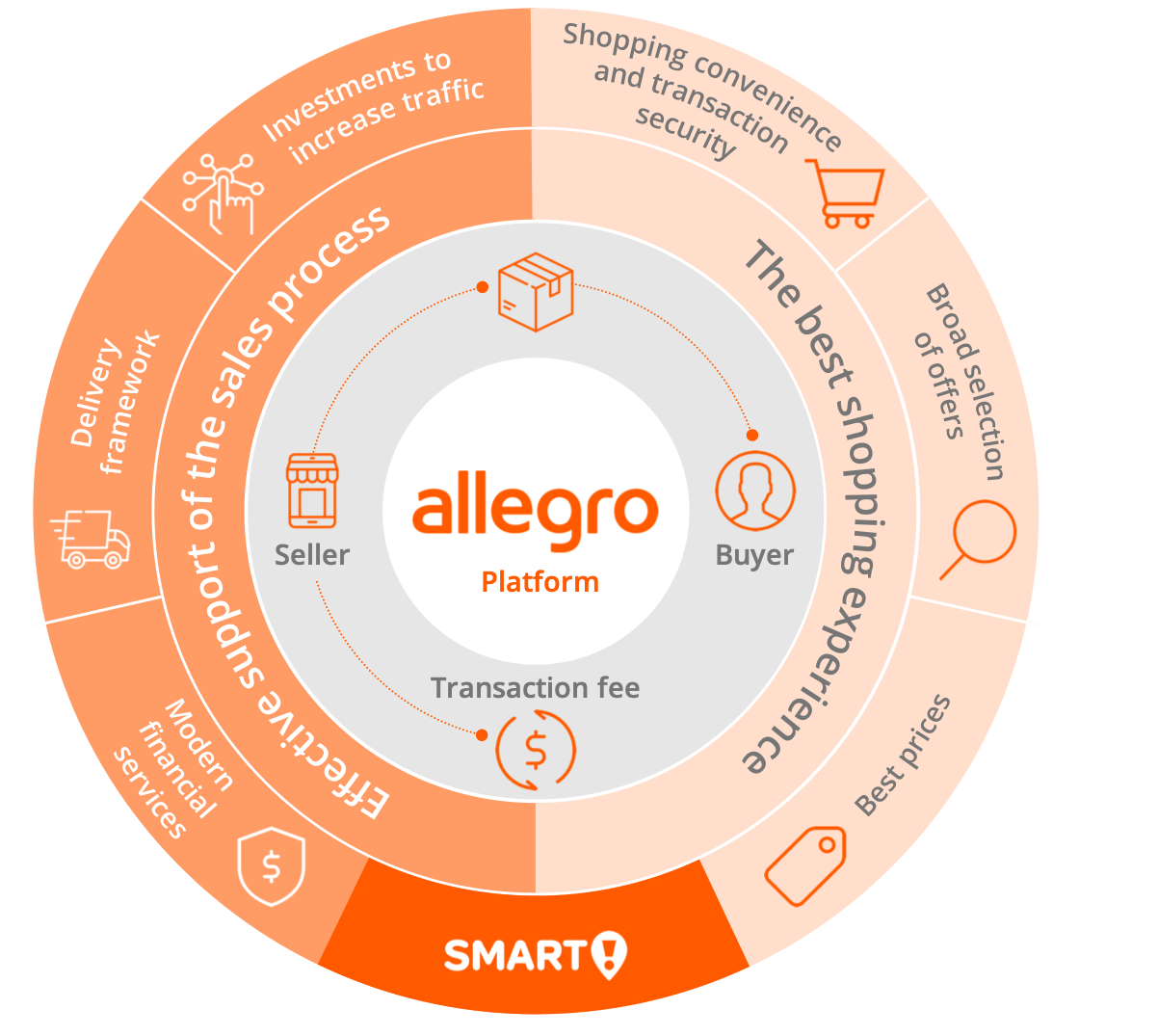 Technology created in Poland
We co-create one of the most dynamic and diverse technology communities in Poland powered by agile methodologies, which allows us to quickly respond to the needs of our customers and merchants. Over 1,000 people work in the technology department, building innovations at Allegro. We introduced several hundred changes to the platform in 2019 alone. Tech education is also one of the pillars of our social commitment.
Common goals
People, their ideas and innovation drive us to act. Despite the large scale of our organization, we make sure each employee knows the strategy, knows how to contribute to its execution and has a sense of participation in forging Allegro's history. We are committed to discussing it with employees during cyclic internal meetings.

Support for society and the economy
The Allegro ecosystem is an important part of the Polish economy and society. Thanks to Allegro, everyone has access to a diverse offer and the best prices. Thanks to Allegro, hundreds of thousands of jobs are created in Poland, and Polish entrepreneurs can reach millions of customers without major investments. This is how we contribute to the development of e-commerce and digital transformation of Polish companies. We also support Polish society with numerous charitable and educational activities.